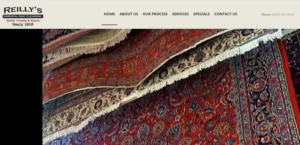 Since 1918, Reilly's Oriental Rug Cleaning has been the name to trust for carpet cleaning in New Jersey.  Being a complete carpet care company.  Reilly's specializes in professional rug stain removal, antique rug cleaning, silk rug cleaning and more.
Any company can bring a rug back to their warehouse and clean it on their floor. Reilly's is a fully operational rug cleaning plant. Utilizing a Moore Roll-a-Jet cleaning machine, climate controlled dry room and the latest computerized technology; we are able to properly handle any type of rug.
To learn more about their process for cleaning your rug.  Be sure to visit the website.
Reillys Rug Cleaning New Jersey