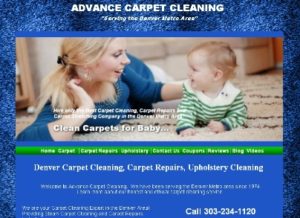 Advance Carpet Cleaning of Denver Colorado is your personal carpet cleaning company.  Many years of experience and never a complaint.  Ronnie Catalano strives to give you the best carpet cleaning and carpet repair service available in the Denver Metro Area.
Advance Carpet Cleaning provides coupons on many of their services. While you are having your carpet cleaned, you may want to consider having your upholstery cleaned too.  Get a carpet cleaning coupon and this may make it even easier.
Some of the additional carpet repair services, Advance offers carpet stain removal, carpet seam repairs, carpet re-stretching, carpet hole repairs, carpet burn repairs, carpet worn spots repair, and carpet cleaning.  What ever your carpet needs are, Advance Carpet Cleaning is the company to trust with your carpets.
For Carpet Repairs in DenverCo contact Advance Carpet Cleaning.